If your site has a valid SSL certificate but is still reported as insecure in browsers, this could be because it contains "Mixed Content" (HTTP content loaded on a HTTPS website).
The built-in Mixed Content fixer in Really Simple SSL will dynamically fix all of the Mixed Content in the HTML of your site. If you have the Mixed content fixer enabled, but your site is still marked as insecure: you possibly have a type of mixed content that could not be fixed dynamically.
In such cases, you'd want to use the Mixed Content Scan in Really Simple SSL Pro. The scan will list any remaining instances of Mixed Content on your website, and either offers a "fix" button or provides you with the exact steps needed to manually resolve it.
Usage instructions
Find the Mixed Content Scan by navigating to Settings > SSL in the left-hand WordPress Menu, then select Settings > Mixed Content Scan within the Really Simple SSL dashboard. Finally, click "Start scan" to start scanning your website for instances of Mixed Content.
If the scan does not report any items, you're all set. But if you see items being reported like in the below image, your site contains Mixed Content that has to be fixed.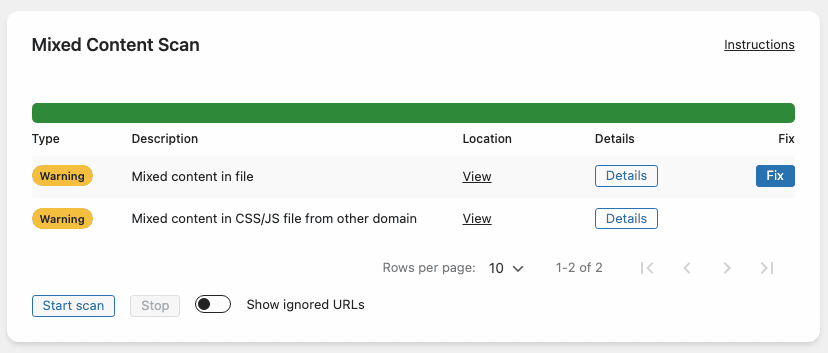 The Fix button next to an item indicates that it can be resolved automatically. Just press the button and Really Simple SSL will take care of the rest.
Some items, such as the instance of "Mixed content in CSS/JS file from other domain" in the above image, concern Mixed Content in files located on a third-party website. These have to be addressed manually, as it is not possible for the plugin to change the content of those files.
Click the Details button to reveal instructions on how to resolve those items.