.htaccess or wp-config.php file not writeable
Really Simple SSL requires write permissions to either the .htaccess or wp-config.php files. For example to add an .htaccess redirect, add a fix to the wp-config.php file if your site is behind a load balancer, or add the secure cookie settings if you use Really Simple SSL Pro. That usually works without any issues. However, on some occasions, the plugin cannot write to either the .htaccess or the wp-config.php file and presents you with a notice that (one of) these files are not writable. This can be fixed by adjusting the permissions on these files.
Luckily, this can be done quite easily. All you need is access to your site via FTP. If you do not want to make these changes yourself, you can always send your hosting provider a message as it's a routine job for them which they will gladly do for you!
Check your security plugins
Before making any changes to file permissions via FTP, check if your site uses a security plugin. Some security plugins such as iThemes and WordFence have a feature that can block system files from being written to. If you use such a plugin, the first step is to check if writing to system files has been blocked. Temporarily disabling those options should allow Really Simple SSL to write to these files.
Making the .htaccess or wp-config.php file writeable via FTP
The .htaccess and wp-config.php files are often located in the same directory, public_html.
The easiest way to make these files writable is to log in to your site via FTP. There are different FTP clients available, each client will work in a similar manner when it comes to file permissions. You can find FTP credentials for your site in your hosting control panel. After logging in, locate the .htaccess/wp-config.php file and right-click on the file you wish to adjust:

When using FileZilla there's an option called 'File permissions'. Clicking that will take you straight to the file permissions. This option can be named differently when using a different FTP client, most FTP clients will allow you to edit the file permissions.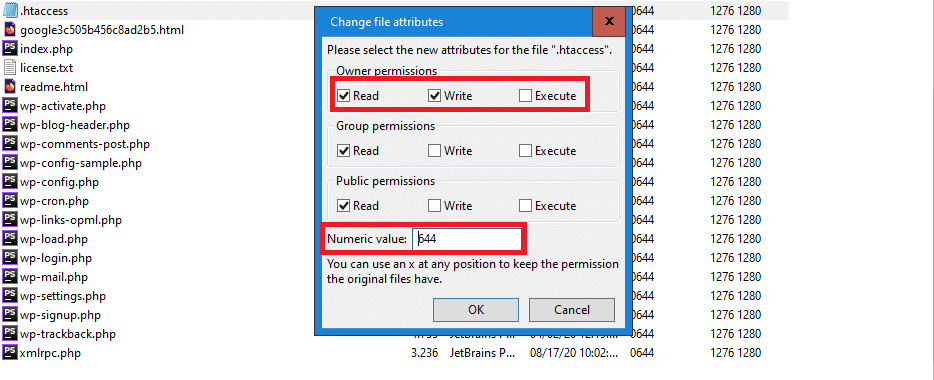 Once you have located the option in your FTP client, make sure the owner of the file can write to it. File permissions can also be given as numbers. In this case, 644 is the correct file permission in numbers.
Once the files have been made writable, Really Simple SSL can make the required changes to keep your website secure!