If you just bought the Really Simple SSL per page plugin, and are wondering how to install it, here's how you do it. You can watch this video for a brief explanation of the installation and most important features, or scroll down to the explanation below. If you need any help, just submit a ticket
HSTS
Warning: do not set a HSTS header while the per-page plugin is active. This will result in the per-page plugin not working anymore, because HSTS will force all requests to https:// while the per-page plugin forces the pages to http://.
You can check on hstspreload.org if your site currently has the HSTS header. If so, you should set the expiration to zero first. If HSTS is enabled on your site, your http pages will be forced to https anyway. Because the per page plugin redirects SSL pages to http if the page is set to http, this will cause a loop.
Plugin installation
If you have the free version of Really Simple SSL activated, deactivate it.
In the email you received, you will find a download link. Download the plugin.
Log in on your WordPress Dashboard and navigate to the "Plugins" page.
Click "Add new"
Click "Upload plugin"
Select the .zip file you downloaded before, upload, and activate.
Plugin configuration
You can choose to basically have your site on http, but force a few pages to SSL. That is the default setting.
If you want your site to basically be on SSL/https, but have some pages on http, you can enable "exclude pages from SSL".
Navigate to "Settings", "SSL"
To switch the functionality to exclude pages from SSL, change the option "exclude pages from SSL" on the settings tab.
License activation
Navigate to "Settings", "SSL". You will find a new tab called "license". You can enter the license key here to activate the plugin.
Enabling/disabling pages for http or https
On the pages/posts or other post types overview pages, you now have a list of icons showing whether the page is on SSL or not: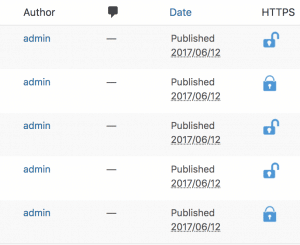 You can edit this on the page itself, but it's also very easy to edit multiple pages at once. Select some, then click "Bulk Actions":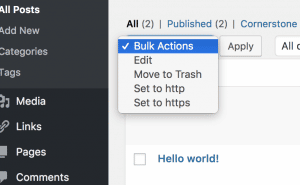 Then choose "Set to https" or "Set to http", and click apply. You're set!