Today Complianz GDPR premium 1.2.0 and Complianz GDPR 1.2.0 have been released!
Both free and premium versions now have the option to use categories in the cookie warning. If you use Tag Manager, you can even connect the categories to specific events in Tag Manager, so you can fire as many dedicated cookie firing events as you want!
Additionally, we have added a new "centered" banner position, and a new minimal theme.
In Premium, you now have the possibility to do A/B testing, which is really cool! You can add several types of cookie banners, the plugin will measure which banner results in the hightest conversion rates (the "all cookies accepted" category is used as measure for a conversion).
A snapshot of the centered banner, and centered banner with categories.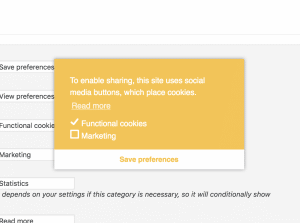 With these new features, you can create almost any kind of banner in the wysiwig banner creator.
We have several great new features in development right now, focussing on the US privacy laws. With these new features you can build privacy statements and cookie warnings for both EU and US audiences.